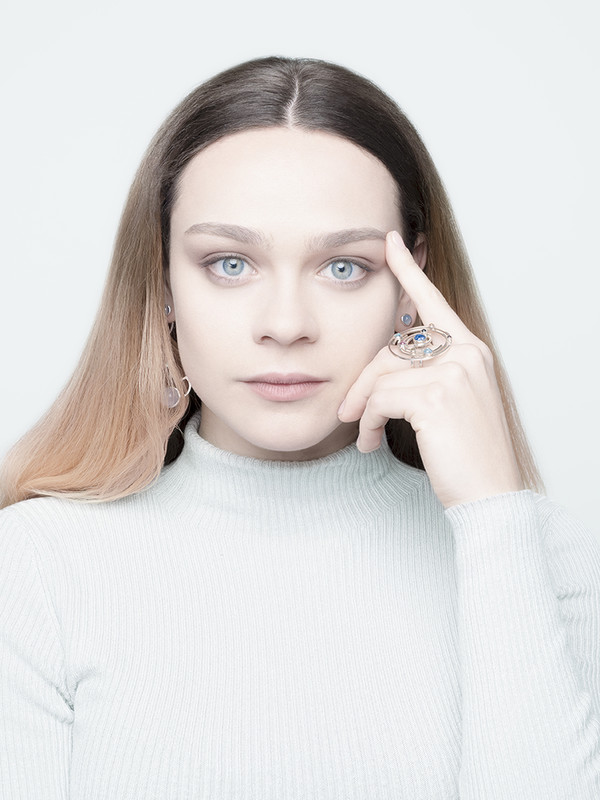 "I like to think of my jewellery as modern, rhythmic with a pinch of playful"
Kristina's drive to create jewellery comes from love for detail, her fascination with precious metals and gemstones, and her obsession with structures that move.
Having completed a Bachelor in Management at HEC Lausanne in Switzerland, and a Bachelor Degree in jewellery design at Central Saint Martins in London, she founded Kristina Ferenchuk Jewellery in 2017 in Zurich, with a vision to create one of a kind pieces that breathe, move and astonish.
During her time at Central Saint Martins, she developed a unique way of using modern technology and traditional jewellery craftsmanship to build high precision precious structures that come to life.
"I prefer clean defined lines, and creating pieces that are unique in their own way, something that goes against fast consumerism and clutter, and something that will still be relevant in years to come. My pieces are for people who value precious materials and craftsmanship, and for those who love colour and appreciate a little bit of playfulness in their life."
All of Kristina's pieces are made to order. She is one of a few jewellery designers that not only designs, but also develops and makes all her jewellery pieces in her studio in Zurich.
"There is never a piece which is exactly the same. I love making custom jewellery because I get to develop a relationship with another person, understand what they love and what is important to them, and then make something which will become a part of their own unique story."